Hi, I'm Matt Harper and I'm running to serve as your next Cobb County School Board member for Post 5. I'm a former educator and father of two Cobb County students ready to put my experience to work for you. I look forward to hearing from the families in Post 5 and the opportunity to serve our students and community.
Thank you for supporting Harper for Cobb Schools!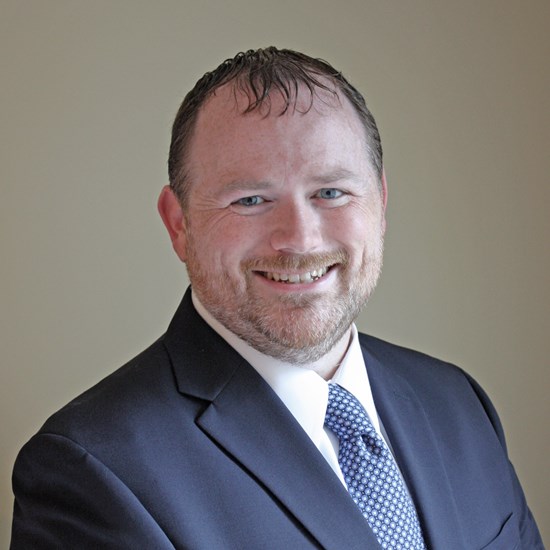 Vote Matt Harper for Cobb School Board on Tuesday, June 9, 2020 in the Republican Primary!
Learn more about the May 19 election date change here.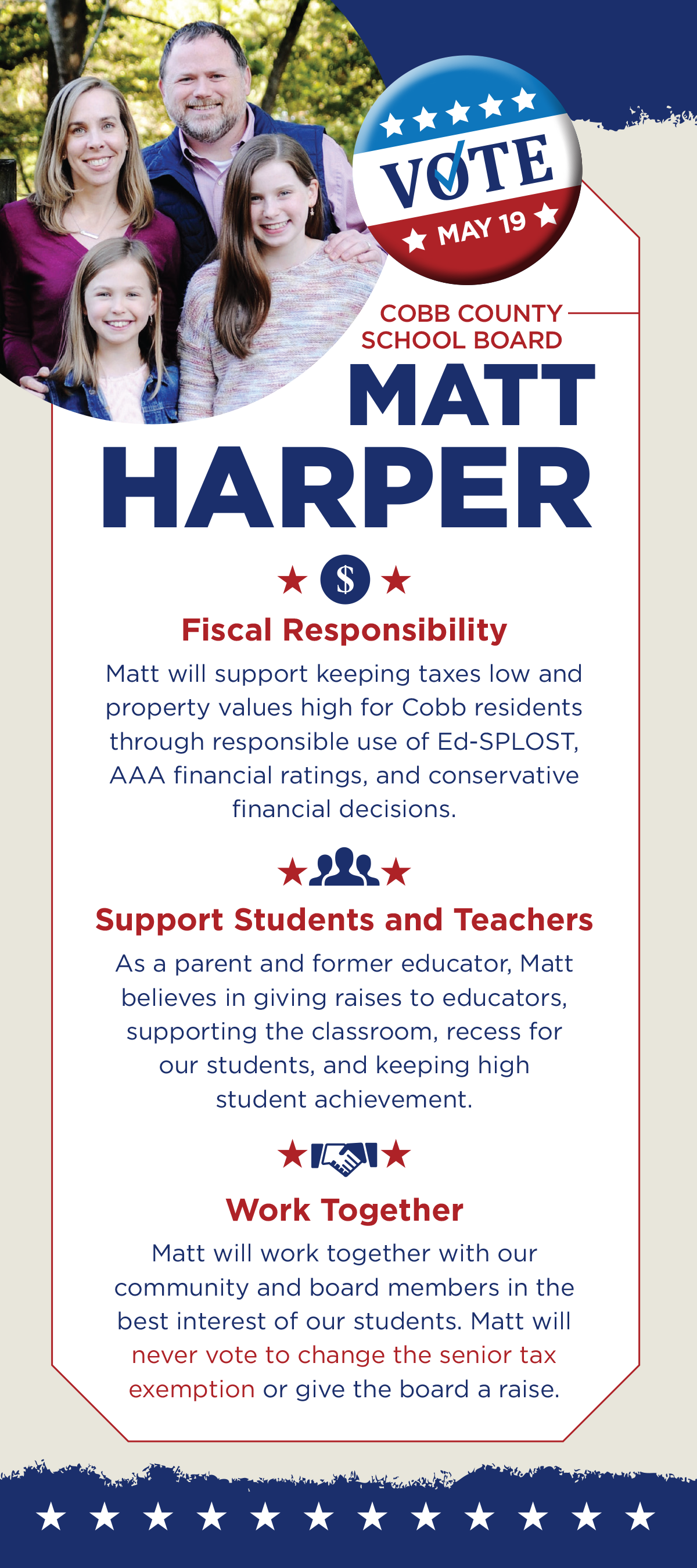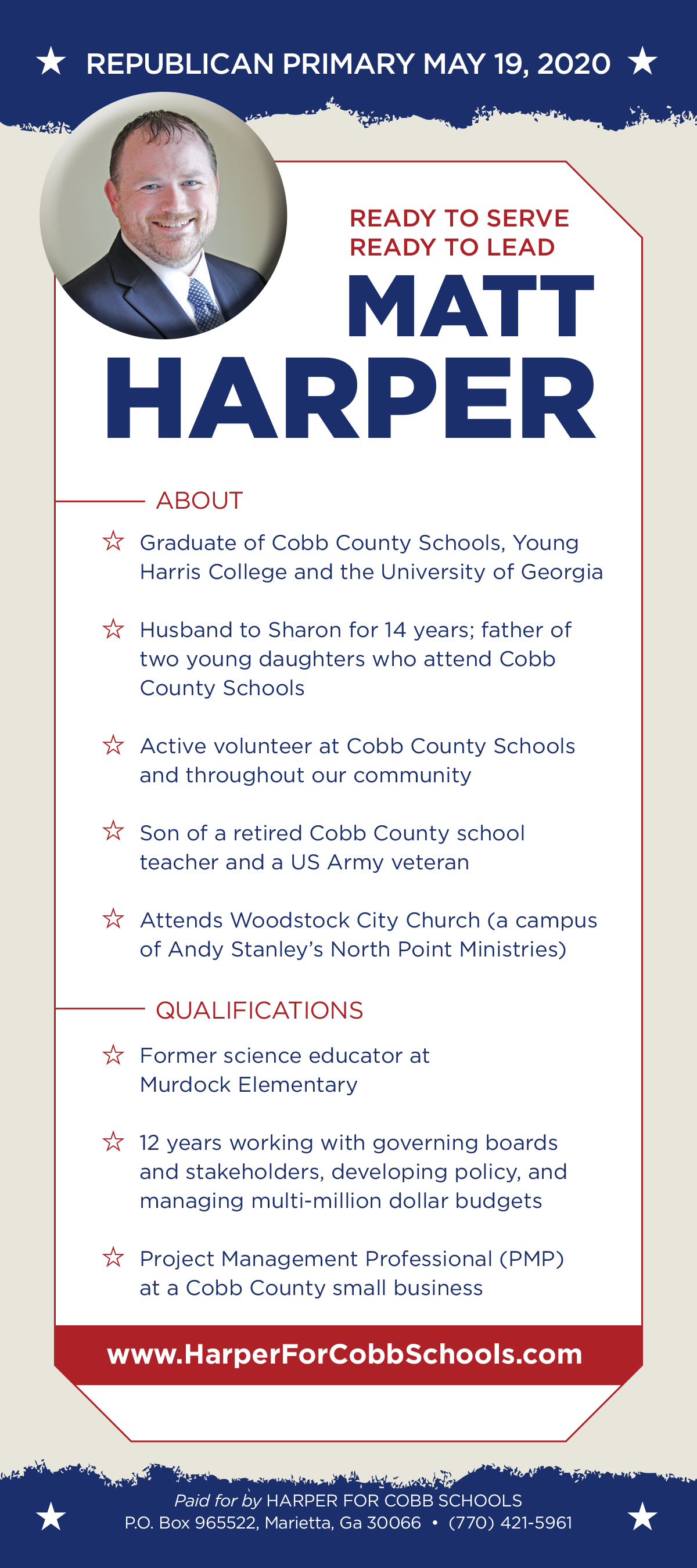 News
Saturday, May 16, 2020 8:00 AM

Name: Matt Harper
Party: Republican
1. Why are you the most qualified candidate for the position?
I am the only candidate that has experience as an educator (Science Lab Instructor at Murdock Elementary) and over a decade of experience in regional and state planning and policy development (Atlanta Regional Commission and State of Georgia). I have responsibly managed multi-million-dollar government budgets and contracts and have a successful record of collaborating and building consensus among stakeholders, local governments, and community groups to develop solutions for our region. I also volunteer throughout our community and served as a school council officer. It is important that school board members have experience working in public education and an understanding of how their policy and budget decisions impact our students and teachers, as well as the long-term impact to our community. I have the experience to ensure a strong financial status, evaluate how every dollar is spent, protect our taxpayers and property owners, and maintain the current senior tax exemption.
2. What is the greatest long-term challenge facing the community in which you seek to represent?
Our school-aged families and teachers understand that education cannot succeed as a "one size fits all" approach and we need to ensure we provide varied education pathways for our students. We need to provide opportunities for college and trades, as well as improve communication between families, staff, and the community to ensure we achieve the established school board goal to "differentiate resources for students based on needs". We need to ensure our education pathways and vision meet the needs of our ever-changing work force and provide funding solutions that meet the changing needs of the classroom and our growing community.
3. What is your solution to that challenge?
The first step to addressing the varied needs of our students is to improve the engagement of our local school councils. Our school councils were established to help the Board bring parents, teachers, administrators, and community members together. This creates a better understanding of concerns and sharing of ideas for school improvement, directly promoting student success and anticipating future education needs. The solution to funding our district's growth and continued success should focus on the responsible use of Ed-SPLOST and lobbying state leaders to develop a more equitable way to calculate Cobb's share of the QBE (Quality Basic Education) funding formula. A strong school system keeps our community a great place to live, work, and raise a family, now and for the next generation.
The full text of this article can be found on www.mdjonline.com
---
Monday, January 6, 2020 12:00 AM
By Kristal Dixon
At least three candidates have announced they will challenge an incumbent Cobb County School Board member in the May Republican primary.
...to challenge incumbent David Banks for the Post 5 seat, which is in east Cobb and includes some of the schools that feed into the Pope and Lassiter high school boundaries. Banks, who has been in office since January 2009, has not formally announced if he's running for re-election.
Harper, an IT project manager, said he wants the school district to maintain its healthy financial status, continue the use of Education Special Purpose Local Option Sales Taxes for school construction projects and require all elementary schools to have 20 minutes of recess time. He also said he supports keeping the existing senior tax exemption for residents age 62 and older on the school board portion of property taxes.
Other Cobb school board members who are up for re-election include David Morgan, Randy Scamihorn and Brad Wheeler. The primary election will be May 19, and the deadline to register to vote in the primary is April 20. The general election is set for Nov. 3.
You can visit the Secretary of State My Voter Page to check your registration status at https://www.mvp.sos.ga.gov/MVP/mvp.do
The full text of this article can be found on www.ajc.com.
---
Tuesday, December 10, 2019 12:00 AM
December 10, 2019
By Ross Williams
SCHOOL DAZE: At the same meeting Savage announced for chairman, IT project manager Matt Harper threw his hat in the ring for the Post 5 Cobb school board seat held by David Banks. Harper lives in east Cobb with his wife and their two daughters, who are in third and sixth grade in the Cobb School District. He works IT for Cobb-based Advanced Open Systems.
He told the crowd he grew up going to Cobb schools, and his mother was a Cobb County teacher. His credentials include serving on the Murdock Elementary school council, where he was also a science lab instructor for three years.
"During that time, I used the school garden to really make hands-on science a priority. The Cobb County master gardeners recognized that effort and invited Murdock to be on the Cobb County garden tour in 2018," he said.
Harper said he supports "responsible use" of the 1% Special Purpose Local Option Sales Tax for education and hopes to help usher in a time of continued growth in the county.
"Cobb is great, and people know it. The secret's out," he said. "There is nothing that, in my mindset, from a planning background, (suggests) that people are going to leave this area. There's only going to be an increase (in population) in this area. That means there's going to be an increase in the school population, so every decision the school board makes, I believe needs to be with that focus in mind, that the school population is going to increase."
The seven-member school board had a quorum at the breakfast, with five current members in the audience listening to a keynote speech delivered by Superintendent Chris Ragsdale. (Only Jaha Howard and David Morgan were absent.)
Banks, who has given no indication he plans to step down, was among that number, though he did not speak.
The full text of this article can be found on www.mdjonline.com.